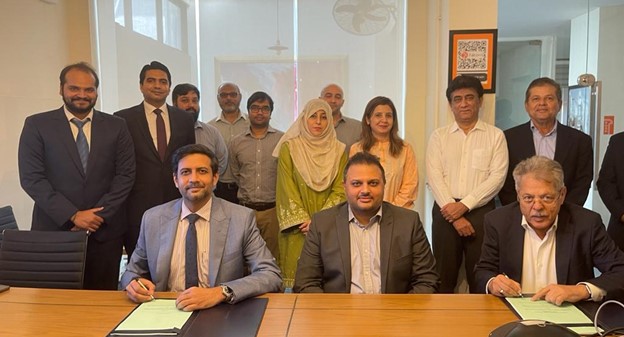 Karachi: EFU Life Assurance Ltd., the leading private life insurance provider in the country, and EFU General Insurance, one of the oldest and largest insurance company in Pakistan, have recently partnered with Falcon-i, the country's largest fleet management company, to provide insurance services for their customers. This partnership will enable Falcon-i to provide insurance coverage to passengers and drivers of the vehicles that have their tracker installed. Through this embedded insurance, this coverage will provide benefits such as hospital cash reimbursement and accidental coverage for the customers and their families.
The signing ceremony was held at the Falcon-i Head Office in Karachi. The agreement was signed between Mr. Mohammed Ali, Deputy Managing Director, EFU Life, and Mr. Syed Salman Rashid, Deputy Managing Director, EFU General, with Mr. Syed Saad Salman, the Chief Executive Officer of Falcon-i.
Speaking at the occasion, Mr. Mohammed Ali said, "We are making strides in our financial inclusion and digital insurance journey by offering life insurance solutions and moving towards the concept of embedded insurance, which will not only increase insurance penetration but also result in an increase in insurance awareness." Mr. Syed Salman Rashid also added "Collaborating with Falcon-i and EFU Life on this project will serve as one of the channels to create value for the end customer and increase insurance penetration. We will continuously look forward to exploring other avenues which will benefit the customers and business."
The CEO of Falcon-I, Mr. Syed Saad Salman, concluded the meeting by saying, "As a company that's always looking to enhance customer experience, collaborations like ours are at the forefront of our consumer strategy and are what will help us create exceptional value for customers."
With this partnership, EFU Group looks forward to serving the customers of Falcon-i through these embedded insurance solutions, which would add value through insurance products for the customers and their families, who purchase Falcon-i's tracker for their vehicles.