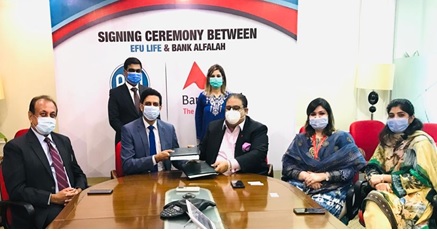 Bank Alfalah, one of the leading banks of Pakistan has partnered with EFU Life Assurance Ltd., a leading life insurance company in the country to launch "Alfalah Mehfooz Mustaqbil Plan", which is especially designed for the Alfalah consumer banking customers.
The signing ceremony took place at Bank Alfalah Consumer Head Office in Lahore, Pakistan, and present at the event were Head of Consumer Finance – Syed Muhammad Asif, Head of Business Development – Rafia Shafqat and Head of Cards – Zubair Asif representing Bank Alfalah. From EFU Life, present at the event were, Mohammed Ali Ahmed – ED & Chief Strategy Officer, Ali Zaidi- ED Group Benefits and Nilofer Sohail –Head Channel Strategy & Execution.
Alfalah Mehfooz Mustaqbil is an income continuation plan where in case of death or accidental permanent total disability of the Alfalah credit card holder, a fixed monthly income of up to PKR 100,000 will be provided to the beneficiaries for a period of one year.
Sharing the thoughts on the occasion, Syed Muhammad Asif from Bank Alfalah stated, "we have always looked forward towards the betterment and enriching our customer lives. Keeping up the aim, we are providing life protection solution to our credit card customers and to their families where in case of any misfortunate incident, the family of the card holder remain protected in the difficult times." EFU Life, a pioneer in Pakistan's insurance industry, will serve as the perfect partner for this plan." Sharing his thoughts Mr. Mohammed Ali Ahmed from EFU Life added, "We are pleased to enhance our relationship with Bank Alfalah through the addition of an Income Continuation product in the portfolio. This is a highly relevant product, especially in the current times, in the context of financial planning for Bank Alfalah customers. Nothing can fill the void created by the loss of a loved one but the financial crisis can be mitigated through Mehfooz Mustaqbil Plan so that the family can continue to live their lives with dignity and honor."
With both the organizations sharing the mutual aim for enriching the lives of masses and protecting the vulnerable from life and health risks, this strategic partnership between Bank Alfalah and EFU Life will open new doors of innovations and may contribute in reshaping the society for opting good financial planning and mitigating the associated risks.