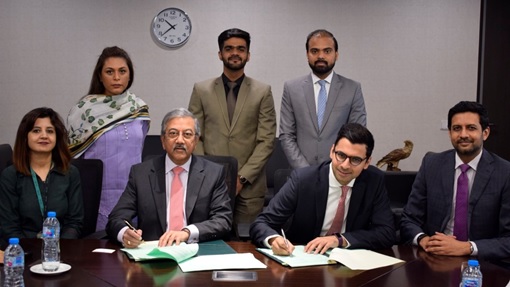 EFU Life Assurance Ltd and Hamara Paisa have entered into a partnership to promote financial inclusion. The Agreement was signed by Mr. Taher G. Sachak, MD & CEO EFU Life and Fateh Ahmad, CEO & Founder Hamara Paisa, at a ceremony held in Karachi where other senior executives of EFU Life and Hamara Paisa were also present.
EFU Life is a leading life insurer offering financial planning solutions for all segments of the society having a keen focus on financial inclusion for the masses. Hamara Paisa is a platform for creating awareness on all types of financial products, including insurance.
Mr. Taher G. Sachak, MD & CEO EFU Life said "Lack of awareness on financial products, including insurance, is one of the main reasons for the low penetration of such services in Pakistan. Through our partnership with Hamara Paisa, we aim to bridge this gap and look forward to the future". Mr Mohammed Ali Ahmed, Chief Strategy Officer EFU Life added "EFU Life has a clear vision and strategy for promoting financial inclusion. We are utilizing various platforms and digital ecosystem in our country to reach out to masses with the message of financial protection and insurance, thus improving financial literacy and offering simple, affordable products aimed at creating a visible social impact. Our partnership with Hamara Paisa will play a vital role in this journey".
Mr. Fateh Ahmad, CEO Hamara Paisa shared his thoughts "We are proud to be given the opportunity to work with EFU Life. They are well known as being forerunners in the industry with their approach towards insurance for the masses, offering good value products and use of technology as an enabler. As we share a common goal of helping people achieve financial stability, I look forward to a long-lasting collaboration'.