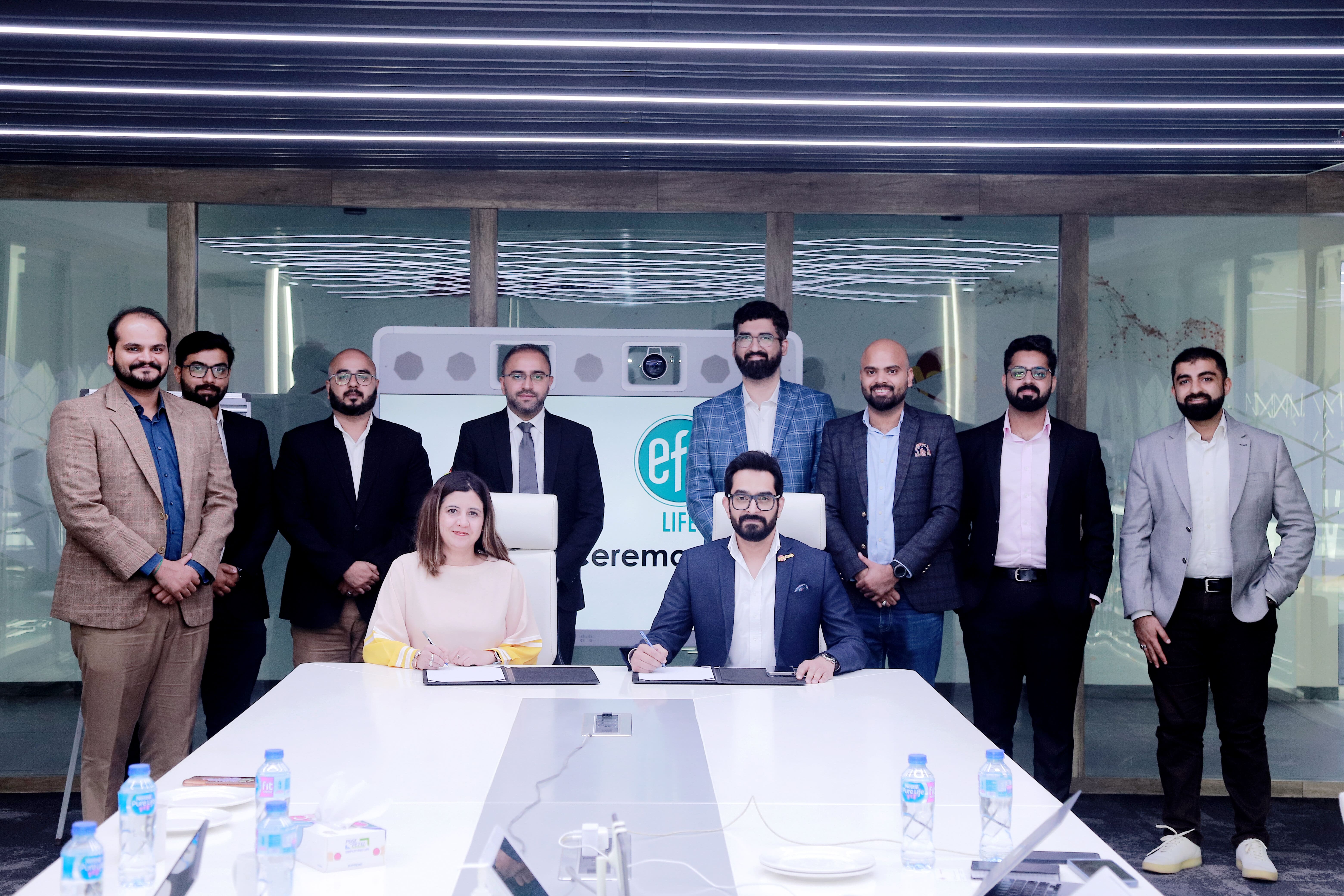 Karachi 27th October 2023 JazzCash, in partnership with EFU Life Assurance Ltd., has marked a significant milestone by launching life and health insurance for nano-loan customers which will initially be complimentary and later will be embedded in the customer journey. This initiative redefines responsible lending practices and ensures that individuals and families have access to essential protection, safeguarding their financial future.
Nano-loans, like JazzCash's ReadyCash loan, play a pivotal role in empowering communities. These small, short-term loans profoundly impact individuals, small-scale vendors and micro-entrepreneurs. They provide instant access to financial resources, enabling people to meet immediate needs, seize business opportunities, and cope with unexpected expenses. This can mean the difference between financial stability and vulnerability for many households.
While speaking at the signing ceremony, Aamir Aftab, Chief Product Officer JazzCash, said, "At JazzCash, our commitment lies in safeguarding the best interests of our customers. Responsible nano-lending should offer immediate financial relief and provide a safety net for the unforeseen challenges life may bring." He added, "By introducing free life and health which will later be coupled with embedded insurance to ReadyCash, we are not just redefining lending; we are protecting dreams, securing futures, and prioritising our customers' well-being above all."
Nilofer Sohail, DGM & Head Channel Strategy from EFU Life Assurance Ltd. said, "We are excited to mark this significant milestone as we enter into a partnership with JazzCash to offer insurance in conjunction with nano lending. This groundbreaking collaboration will empower us to extend our services to millions of customers. By harnessing the valuable insights, we gather through this initiative, we will not only enhance our offerings but also continually optimize the customer journey. Together, we are poised to redefine the insurance experience for our customers, ushering in a new era of financial inclusion and security.
The impact of nano-loans extends beyond individual borrowers. It contributes to economic growth at the community level. As these small loans stimulate local businesses and entrepreneurial endeavours, they generate income, create jobs, and drive economic development. This ripple effect enhances the overall well-being of communities. With this important addition of Insurance, customers are getting an additional peace of mind and security.
The integration of insurance with nano loans represents a transformative milestone that promises to bring substantial value to both customers and the financial industry as a whole. This innovative synergy not only addresses immediate financial needs but also provides a critical safety net for the future. By combining the accessibility of nano loans with the security of insurance, we are reshaping the landscape of financial services, empowering individuals to pursue their financial goals with confidence, knowing that their aspirations are protected. This holistic approach ushers in a new era of financial inclusion and resilience, where customers can thrive even in the face of unforeseen challenges.