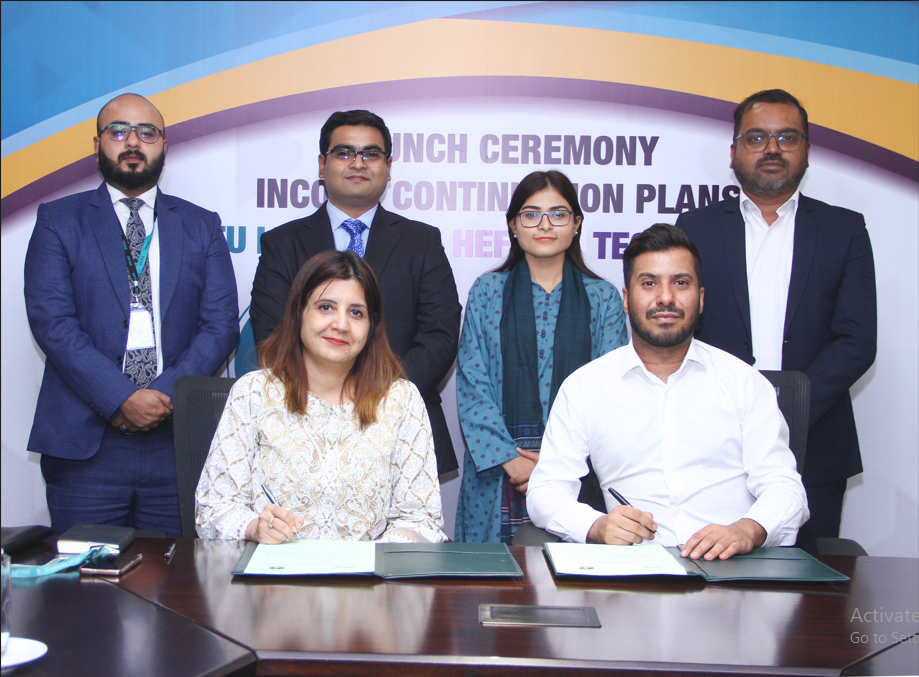 (Karachi): EFU Life, the leading Life Insurance Company in Pakistan, and Hefazat Technologies, a promising Insurtech have joined hands to increase the Digital Insurance penetration in Pakistan. To start with, Hefazat Tech will be able to distribute Income continuation plans to other businesses which will then reach out to its customers with this unique and value-added offering. Later both organizations plan to onboard more exciting products according to the needs and risk appetite of the customers.
EFU Life's Income Continuation Plans are specifically designed to provide monthly income to the family members in case of an unfortunate event such as an accident, injury, permanent disability, or death of the policyholder, providing ease of life from the burden of financial crisis when the breadwinner is deceased or disabled. The beauty lies in the business model and the way this plan has been embedded in the customer journey.
The signing ceremony was held at EFU Life House, Head Office on 22nd Nov '22 and was attended by Mr. Ali Rehman (Director – Hefazat Tech) and Ms. Nilofer Sohail (Head of Channel Strategy & Execution EFU Life) along with other representatives from both the organizations.
Ms. Nilofer Sohail speaking at the event, stated:
"It is encouraging to see Insurtechs such as Hefazat Technologies emerging in the Pakistani Market and trying to meet the purchase protection needs of the customers. EFU Life in the last few years has integrated with various ecosystems to provide insurance coverage to the masses. We are confident that our partnership with Hefazat Technologies is another important milestone leading toward this goal. Through our products, services, and experience in this domain, we plan to create an impact on the lives of our customers.
Mr. Ali Rehman further added:
"It takes vision and great leadership to be open to innovative ideas and concepts and this is exactly the openness and willingness that has been demonstrated by the leadership at EFU when they welcomed the opportunity to work with us. We look forward to working with the team at EFU to create industry defining products to bring to the market that will help reshape the way consumers look at Insurance based products."